Can you believe it? I certainly can't! I'm told that after retirement, time will pass with the speed of light but I'm finding that it's already doing that. I've heard the word "blogiversary" used for what I've accomplished - five years of reading, writing, and opining on books and other subjects dear to my heart, but I have to admit I'm not fond of the word - reminds me too much of Blagojevich!
So I suppose I should have some kind of contest - a giveaway - but what do I have to give? What I'd love is to have all my readers - I don't know, all 5 of you? - give me a shout out and say happy anniversary. I'd be thrilled to find that there are lurkers out there and that I'm actually reaching a wider audience than I could ever imagine. You know, some publisher who's tired of Nancy Pearl and would like to put a fresh new voice in print! Here I am!
What I won't do is bore you with the statistics of how many posts, how many books read, how many different states my readers come from. I'd rather tell you about how I decided to leave Vietnam behind in search of a rip roaring laugh of a read to take my mind off war for a few days. Have you ever heard of Trevor Cole? (
http://www.trevorcole.com/
) I can't honestly remember where I did but yikes! I was looking for laugh-out-loud chuckles but what I got was dark humor -
very
dark!
The novel,
Practical Jean
, had a siren song effect on me the second I laid eyes on the cover. Later I found out that this is the American version of the cover, Jean with her seamed hose and pumps, a far superior cover to the original Canadian version (in my opinion). You could vote if you'd like. Would you have picked up the first one?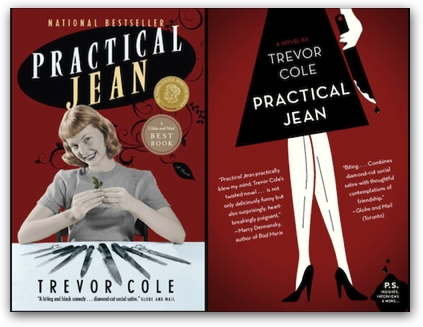 This is a wild and crazy ride through Jean's warped imagination as she recovers from the long, protracted death of her mother, a hard, tough character, former veterinarian with little use for sentiment. Jean concludes that she failed as a daughter because she lacked the courage to put her mom out of her misery, like her mom had done so many times for her ailing animal patients.
Jean makes a conscious decision to be a finer friend than she was a daughter. She will study her dearest friends, discover what would make them happier than they've ever been, and then quickly end their lives while they're at their peak - saving them from the long, drawn out ravages of old age. At once hilarious and horrifying, Jean's imagination knows no bounds as she systematically goes about eliminating her buddies. As I reader, I kept saying, "
she wouldn't
!!!" You've got to wonder what kind of mind could have come up with this plot!
Jean makes no attempts to hide her tracks and, as her estranged but loving husband Milt, her baby brother, the inept but trying cop, Wellend, and her big brother who's the police chief, begin to suspect the unbelievable, Jean blithely continues to mend fences with her high school buddy Cheryl who drinks more than she bottles at her winery in the Finger Lakes.
This crazy romp was just what the doctor ordered after
The Things They Carried
, not to mention my next book discussion choice, a real downer called
Please Look After Mom.
What else am I up to? Hoping to begin
The Expats
today. Listening to Stewart O'Nan's
Snow Angels
on the ipod and just beginning Roger Ebert's autobiography in the car. How about you?