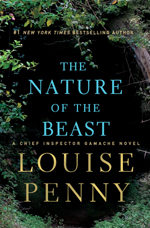 Is there anyone out there who is not familiar with Louise Penny's marvelous, award-winning Chief Inspector Gamache series? "The Nature of the Beast" is the eleventh novel in a list of books that absolutely must be read in order to reap the full, awe-inspiring benefit of what Ms. Penny has accomplished. So much more than mysteries, these books build upon one another, not so much for plot, but for the growth and development of character.
Aficionados of Penny's work will tell you that the fictional village of Three Pines, in Canada's Quebec province, is so real to them that they could move there tomorrow and be perfectly happy. Each inhabitant comes to life in Penny's capable hands. Myrna, the retired psychologist who runs the bookstore, Ruth, the curmudgeonly poet and her pet duck, Clara, an artist who is finally coming into her own, and the B and B itself, where everyone meets in front of the fire for good food, drink, and conversation, are all as real as our own neighborhoods.
But now that Inspector Gamache, once head of the homicide division of the Surete de Quebec, and his wife, librarian and researcher, Reine Marie, have retired permanently to Three Pines, Penny may be faced with a dilemma. How will she keep our hero realistically involved in murder investigations after his protégée, Isabel Lacoste, has been promoted to fill his very large shoes.
In this latest entry in the series, she sets the crime right in Three Pines. Penny has never shied away from violence, in fact her novels delve deeply into the nature of evil. She seems to believe that it can become manifest in any of us given an accumulation of circumstances, a perfect storm if you will, and sadly, I tend to agree.
Nine-year-old Laurent Lepage is the epitome of the boy who cried wolf. A fixture in Three Pines, Laurent freely explores the countryside on his bicycle, home-made spear at the ready, battling imaginary foes in the woods. So when he flies into the pub exclaiming that he's seen a big gun in the forest, everyone just rolls their eyes and say, "that's our Laurent," until little Laurent disappears and is later found dead on the side of the road.
Inspector de Beauvoir, Gamache's son-in-law, arrives in Three Pines to tell the citizens that Laurent's death is simply a terrible accident, a hit and run, but Gamache suspects something more sinister and we're off and running. I'm sorry to say that the novel soon takes a turn into the absurd, throwing out so many red herrings that even the most patient, discerning reader will want to scream.
From a draft-dodging Vietnam War veteran, to a purveyor of WMD's, to a criminal mastermind who wrote a play while in prison that's set to be performed by an amateur group in Three Pines, the plot bogs down in a tedium I've never before found in a Louise Penny novel. Still, I can't advise you to skip this one because there are clues as to what our beloved Armand Gamache will decide to do next and, according to Ms. Penny's website, http://www.louisepenny.com/, "A Great Reckoning," novel number twelve, will be released in August. You've got plenty of time to catch up!