Just a few weeks ago I used this platform to bemoan the fact that, as a reviewer, I often question myself. So it was with trepidation that I looked at last weekend's cover review in the
New York Times
of Coetzee's
The Childhood of Jesus
, a novel that I've mentioned, I found to be indecipherable. What, I kept asking, was the author really trying to say?
The Times review was written by none other than the inimitable Joyce Carol Oates. Of course, writers like Oates are not limited to 225 words, so I jumped right to the last paragraph of the three page spread and found that, in much kinder words, Ms. Oates asked the same question I had, what the hell is this author really trying to say? Ya gotta love it.
I was so thrilled to read that another novel, one that I really loved and wanted to tell you about, has just been added to the short list for the prestigious Booker Prize. Such validations are absolutely necessary for a reviewer - at least for this one. I couldn't keep going if I didn't feel that I got it right way more often than I got it wrong. Who would trust me?
Zimbabwean author NoViolet Bulawayo's first novel,
We Need New Names
, is the Booker nominee that I'm talking about.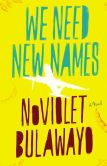 Snap up a copy as soon as you can so that you, too, can be on the inside track when the awards are announced next month. Here's the review I wrote before I was assured that it would be a hit.
Library Journal
Caine Prize-winning Bulawayo's debut novel opens in a Zimbabwean shantytown called Paradise, where life is a daily struggle for sustenance as the regime destroys homes and closes schools. As ten-year-old Darling and her friends roam the streets, turning their quest for food into a game, Darling makes wry observations about her country's social ills that belie her tender age. Given the opportunity to move to Michigan with her aunt Fostalina, Darling faces a different challenge: how to transition from abject poverty to ostentatious excess. With an acute sense of irony, she observes refrigerators stuffed with food even as the women diet rigorously to fit into Victoria's Secret underwear and the dog whose room is larger than most homes in Zimbabwe. In a poignant scene, Darling sniffs at a guava and is transported to her homeland. VERDICT As Bulawayo effortlessly captures the innate loneliness of those who trade the comfort of their own land for the opportunities of another, Darling emerges as the freshest voice yet to spring from the fertile imaginations of talented young writers like Chimamanda Ngozi Adichie and Dinaw Mengestu, who explore the African diaspora in America. [See Prepub Alert, 11/19/12.]—