Author Lauren Grodstein told an interviewer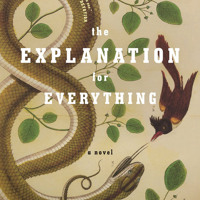 (
http://whyy.org/cms/radiotimes/2013/09/30/a-conversation-with-local-novelist-lauren-grodstein/
)that all she wants is for people to NOT be able to put down her book. She got it! As annoyed, confused, and frustrated as I grew while reading
The Explanation
of Everything
this weekend, I did not want to put it down.
If any of you readers are in the market for a great book discussion choice and have the guts to open this can of worms, that is, Darwinism versus Intelligent Design, Grodstein's book would be ideal. What I love the most about it is that she never takes a definitive position, never makes any one character all dark or all light. The people in this novel are real in that they are positively sure of a mindset one moment, searching and open in another. After all, this is human nature isn't it? If your beliefs can't be questioned then are they worth having?
The plot revolves around Andy Waite, a young widower raising his two daughters on his own, once the promising protégée of a famous Princeton atheist biologist, who has ended up in a tenure track position at a second rate college in New Jersey where he's plugging away on research in which he's actually no longer interested. His only passion is the one course he teaches that he's renowned for,
There is No God
, a scientific refutation of religion based on Darwinian principle.
Still lonely and vulnerable, unable to move on since the death of his wife Louisa in a horrific automobile accident precipitated by a drunk driver, Andy finds his belief system suddenly turned on its head by the appearance of two students. Lionel Schell, a member of The Campus Crusade for Christ, has made it his life's work to attend Andy's class each semester, playing devil's advocate and challenging his teacher at every turn.
Michelle Porter, a transfer from community college, seems to have a more nuanced agenda in mind when she approaches Dr. Waite, knowing he's an avowed atheist, to oversee her independent research paper on Intelligent Design. Andy makes the excuses one would expect to hear. First and foremost, this is not a sociology department but a biology department. He works with students who can prove their theses with science, not religion.
And here, I thought the author was just a tad weak in allowing Melissa to so easily manipulate Andy, insinuating herself into his life in ways beyond the student/teacher relationship. I couldn't believe he could be so foolish but, once again, we are human, aren't we?
There's an interesting secondary plot involving Andy's mentor, Dr. Rosenblum, whose reputation was sullied by the unusual death of his star researcher, Anita Lim, a young Harvard genius on the verge of a breakthrough in evolutionary research. Another percolating subplot is the one that involves the young man who killed Andy's wife and Andy's obsession with thwarting his parole.
Grodstein does an outstanding job of showing readers how people face the constant daily struggle of living, with or without faith, with or without answers to the great questions of the universe, and how our belief system can evolve, if I may use that term, as we grow, read, learn, and face the worst that life can throw at us. None of us can say who is right, and really, should it be a fight for who's right anyway? As long as we wake up to each new day with joy and appreciation for this world we inhabit. As long as we never lose our sense of wonder are we not, believers and non-believers alike, worshiping? If you're a person who enjoys a book that makes you think and poses more questions than it offers answers, then this one is for you!
Now, it's almost the end of the year and I've been perusing the list of 105 books that I've read this year (yes, I know, I've been slacking) trying to come up with a top ten list. Oh, how difficult this is! I'd love to have more interaction with my readers here on the blog next year and am hoping you'll help me. Begin by thinking about sharing your favorites of the year and maybe even telling us why. I'll try to do the same. The first person I hear from will get my advance readers copy of
The
Explanation for Everything
.
In the meantime, I'll be finishing the stunning
Life After Life
by Kate Atkinson and struggling with
The Cuckoo's Calling
by J.K. Rowling, aka Galbraith. It's not that the book is so bad, it's more that I no longer spend enough time in my car to keep the momentum of a murder mystery going. I'll have two reviews in the Jan. 15th issue of
Library Journal
and will keep you posted on those. So, don't forget, think about what you loved this year and share with other readers.