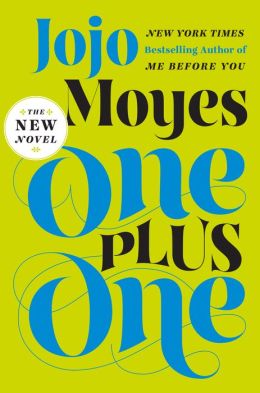 For several weeks I've been in the very dark recesses of the human heart. Between "In Paradise," which I wrote about last week, and "Barracuda," a new novel by Australian writer Christos Tsiolkas that I reviewed for "Library Journal," I have been suffering through the worst of human nature and desperately needed a lift.
Fortunately I remembered that, through the kindness of the editors at NetGalley, I had several books still sitting on my nook that had not yet gone out of date - I hate it when that happens! Jojo Moyes seems to be my new go-to gal for lifting the spirits and don't we all need a little rom-com now and then? Come on, admit it, you really liked Pretty Woman when it first came out. Sure, it's a bit sexist, rich man rescues poor but beautiful girl, etc. Still, if you're not ashamed to admit that you laugh out loud at Hugh Grant's theatrical antics, then race to your library's website and place a hold on "One Plus One" which just came out July 1st.
Jojo Moyes is one of the most eminently readable authors I've found in a long time. Yes, she grabs you at "hello." Our feisty heroine is Jess Thomas, a thirty- something young woman whose husband Marty ran home to mom when the going got tough. Jess is raising their daughter Tanzie, a precocious little delight of a girl who wears home made clothes loaded with sequins to offset the look of her coke bottle glasses. She also happens to be a math prodigy.
Then there's Nicky, Marty's son from another liaison, a computer geek, eyeliner-wearing, hair-dying goth who regularly gets beaten and abused by the Fisher boys who rule the neighborhood with iron fists. Add to this menagerie a hundred pound mutt named Norman and it's no surprise that Jess hasn't had a date, well, since high school. She works days as a house cleaner and nights in a pub and still can't make ends meet. Still, this family is full of love.
When the math teacher tells Jess that Tanzie could qualify for a scholarship to a private school if she would just enter the math Olympiad in Scotland, Jess plots and schemes to get her there, though normally there's no money for gas, hotels, or food.
You see, Jess found a wad of cash. It fell out of the pants pocket of a drunk she was helping home from the pub one night. Ed just happens to also be one of her least favorite employers, a wealthy software guru with an attitude, whose beach house Jess cleans. He'll never know, she thinks, if she borrows the money for a good cause and pays it back eventually.
Oh what tangled webs we weave.....through an odd-ball set of circumstances Ed winds up on the road trip from hell to Scotland with Jess and her brood. It's a no-brainer as to what's going to happen but the thing is, it doesn't matter. This is one of those heart-warming, sigh-inducing novels that you just savor for the pure goodness of the characters, and the assurance of a happy ending. As I said, it's just what the doctor ordered.