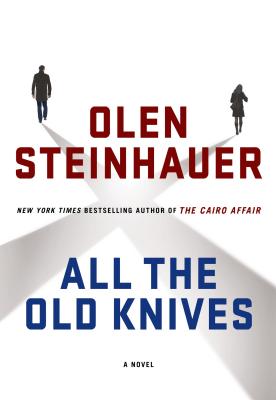 It's no secret to those of you who have been reading this blog for a while that my friend Don and I and crazy mad about espionage. We have yet to find anything on the BBC that can compare to MI-5, a breathtaking years-long series about the British Secret Service. I will read or watch anything that revolves around the CIA. Just when I think no, even they can't be THAT duplicitous, by golly they go and double down.
So, if John le Carre has gotten just a bit too erudite for you, Olen Steinhauer is your man. I knew that I would want to listen to this book because it would keep me on edge as I walked and I'd keep on steppin' no matter how hot it got. It worked!
Henry and Celia excelled at their jobs when stationed at CIA headquarters in Vienna. In fact, as I expect often happens when one is involved in clandestine work, though surely frowned upon, they became lovers. But after a hostage situation involving a plane on a tarmac at the Vienna airport goes horrifically awry, Celia decides to leave the service and try to live a more conventional life. But can one every leave the CIA behind?
Six years later she is a contented mother of two, married to a simpler man, seemingly willing to be taken care of in pretty, placid Carmel-by-the-Sea, until, that is, she hears from Henry. Still with the CIA, he says. Just passing through, he tells her. Let's meet for dinner, for old time's sake.
And now Steinhauer shows off his brilliance. He invites the reader to be a fly on the wall as the former lovers size each other up, drink, reminisce, drink more, each wondering what the other one is really thinking. They parry back and forth as if they are engaged in a chess match, one scoring, then the other.
As the evening progresses a back story emerges, shedding light on what led to Celia's abandonment of Henry. Depending upon which character is speaking, you'll find yourself forming definite opinions, changing them, and then recalibrating again. But of course, that's the beauty of espionage. Sometimes you're not sure who you can trust until that old knife slides into your ribs.
A great read and apparently being optioned for film. Don't miss it.